Joette: Performer & Writer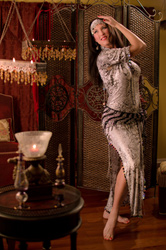 Joette has performed throughout the United States, including engagements at universities, hotels, theaters, network TV, and cultural centers. Her love and commitment to the dance is evident in her efforts to motivate each dancer to their individual best. It has been said that "Joette truly has a master's touch and is a treasure. The simplest movement is presented with incredible focused energy. The quality of her movements is what we all strive for"(student). Her style is soulful and dynamic while her emotions are expressive and clear. On stage her ability to reach and entertain an audience with warmth and humor is delightfully apparent. As a teacher Joette conveys not only solid form and technique, but the subtle nuance that makes this dance magical.
Joette's interests lie in a strong foundation in Egyptian dance with a fusion other influences inspired by her extensive dance training. Joette is a dedicated improvisational dancer whose specialties are working with veils, skirts, cane, and live music. As a performer, Joette strives to express the joy of dancing and the emotional quality of the music. As an instructor, she works to balance artistic and personal interpretation of the music with excellent technical skills, a deeper understanding of the dance form, and to instill a passion for this dance form. This philosophy holds true for any class that she teaches and the articles that she writes for numerous publications including industry specific and international Middle Eastern Dance publications. An artist, researcher, and experienced dancer sharing the joy of dance to all.
Joette: Instructor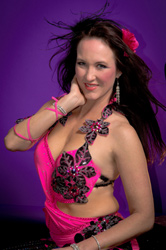 Joette is devoted to teaching Middle Eastern dance as an art form and as a fun form of exercise! Not only is Joette a popular teacher both for her technique and her personable way of communicating with students but her style is graceful and exquisite. Her class design is unusually comprehensive including: technique, musicality, cultural awareness, context, costuming, & stage presence. Knowledgeable and accessible, she is the only professional teacher in southwest Michigan. Joette has studied nearly 20 years and has performed globally to acclaimed audiences. In addition she is a faculty member of Western Michigan University where is teaches in the Gender and Women's Studies department.
Joette excels in the performance art of Middle Eastern dance and teaching the beauty of it to others. Within all her knowledge are born new ideas for proliferation of an art she obviously loves and to which she has devoted her life. While advocating for authentic vocabulary & rigorous performance technique — the true conventions for dance preservation and excellence — her visionary methods for dance education and performance potential are refreshing. Joette understands that education is the only way to go in our current dance world where opportunities — and sometimes genuine appreciation — for professional artists are slim to none.
Since 2000, Joette Sawall has offered audiences the opportunity to experience raqs sharqi ("belly dance") as a theatrical art within the Greater Kalamazoo area. A powerful and exciting performer, a motivational and articulate instructor, a highly educated and tireless mentor, Joette has enchanted audiences around the world with her dynamic and soulful interpretation of Middle Eastern dance. She persistently creates new ways to bring this dance to newcomers and new audiences alike by enhancing contemporary influences with folkloric elements, diligently studying within the academy of scholars and with legendary masters to provide the most comprehensive dance curriculum available. "Much more than belly dancing…Joette offers the hottest adult class Kalamazoo has to offer, believe it or not, it is Middle Eastern dancing."
Joette is a beautiful dancer who is so committed in her art. When she dances she reminds me of a beautiful poplar that moves graciously with the gentle wind. She has done so much research about Arabic culture. When she met me she couldn't stop asking me question about costumes and traditions. She respects Arab women and Arabic culture so much and is always making sure that she represents Arabic culture in the best way in order to enable the communication between the west and the east.
Joette is a striking woman, gorgeous, tall , a Midwestern beauty that asks in depth questions and inquiries about the Middle Eastern Culture & Women's issues and then readily applies what she learned while presenting the dance form in a very educated/well thought out manner! It is a pleasure to work with her and to see her dance & continue to grow at a rapid pace! A professional in every sense ! The art form needs more Joettes!
Joette Sawall is the professional oriental dancer, performer, teacher, and troupe leader. She is a hard working teacher I am happy to be working together sometimes.
I've been one of Joette's wildly happy belly dance students since I found out about her classes in August of 2006. Joette brings to the women of the Kalamazoo area this timeless dance invented by women, for women, and meant for women's bodies. In an age where women too often hear a "You are not OK" message — not thin enough, young enough, sexy enough — belly dancing reassures us from time immemorial that we are more than OK — we are women, and beautiful in our infinite variety.
Joette: Bio
Joette, the artistic director of the West Michigan School of Middle Eastern Dance LLC, has studied extensively with famous Egyptian and Turkish dancers and choreographers since the early 1990s, focusing her dance study and performance on the Egyptian Raks Sharqi along with Middle Eastern folkloric dance from all regions of the Middle East. In addition to her dance background, she also holds a masters in communication focusing on interpersonal and intercultural studies that compliments her passion for Middle Eastern dance. Currently, she is an instructor in the gender and women's studies department at Western Michigan University.
Her dance studies began as a young child in ballet and jazz, leading to competitive dance as a teenager, where she gained valuable stage experience. Along with founding the West Michigan School of Middle Eastern Dance LLC, Joette is also a principal dancer in the Mirana Middle Eastern Dance Company located in Little Rock, Arkansas. The Mirana Middle Eastern Dance Company has had the opportunity to perform for heads of state, President Bill Clinton, Senator Hillary Clinton as well as at Democratic conventions. The Mirana Middle Eastern Dance Company is currently with the Arkansas Arts on Tour, performing and lecturing throughout the southern United States at major universities and art centers.
Joette ever so diligently continues to study this beautiful art form and is certified in the dances of Egypt and Turkey. In her most recent trip to Egypt in June 2006, she completed a certification for professionals and instructors with legendry choreographers Mahmoud Reda and Farida Fahmy, focusing on the "Dance of Egypt." The certification was the first of its kind and only open to 10 professionals worldwide. Each participate was handpicked by Farida Fahmy. The comprehensive 7 day, over 30 hours in the classroom, certification not only focused on dance but also anthropology, sociology, Arabic music, and costume design. Other instructors include: ever so knowledgeable Shariha Mehrez; the most talented composer of our times, Maher Kamel; and the most popular designer for the stars, Sahar Okasha.
Along with her Egyptian certification, she is certified in the Turkish style and has performed in Istanbul, Turkey. Joette's studies also have included the Romi gypsies of Turkey, where she meet and studied under Reyhan Tuzsuz in the fall of 2007; along with Bulent Kurtisoglu, dancer professor at the University of Istanbul, in teaching ethnic and folk dances of Turkey.
In addition to Middle Eastern dance, Joette also seeks to understand and study other dance and fitness genres. She is certified in ZUMBA, ZUMBA Gold and regularly teaches Spanish fusion and slim and tone classes. She is certified in CPR and maintains a high level of knowledge about body kinetics and modification for those that are disabled or have learning disabilities. In 2008, Joette traveled to the Island of Maui, Hawaii to study Hula with a master "kuma" hula teacher with the Kauahea organization of Hawaiian culture. In the summer of 2011, Joette spent time in Madrid, Spain studying the roots of Andulsian dance and music to enhance her study of Flamenco.
Joette has earned an international reputation as an Oriental dance teacher, performer, sponsor and director. Her eclectic style and grace, balanced with her in depth knowledge of Egyptian folkloric dance makes her one of the most sought after Oriental dancers in the Midwest. Ever conscious of the need to grow as an artist, she continually research's and seeks master artists such as Mahmoud Reda and Farida Fahmy. Joette has had years of improvisational performance experience in cabarets (private or public performances), on theatre stages as a guest artist, and as a featured dancer in gala shows at major universities and other facilities. In June of 2008, Joette accompanied by the band the Levendes was the opening act for the international rock band, the Gin Blossums; in 2009 with Vibe Pipe; in 2010 with Spin Doctors and Night Ranger; in 2011 with the band 38 Special; in 2012 with Hoobastank, in 2013 with Gin Blossum, & 2015 Theory of a Deadman and Skid Row.
Her commitment to this art form is truly a labor of love with all the volunteer and charity events that she donates her skill and knowledge. In conjunction with her performance ability she is a popular teacher both for her technique and her approachable manner. She truly engages the student and motivates them to appreciate this beautiful art form, while becoming aware of their own body image. She is striving to educate the general public and is encouraging women of all ages to appreciate this ancient, women's dance of celebration and life.
For more information, please contact Joette. Call 269-321-4400 or email joette@wmschoolofmed.com.